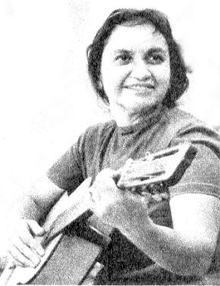 Violeta PARRA
1917-1967, singer and visual artist
Violeta del Carmen Parra Sandoval was born on October 4, 1917, in San Carlos, Chile, and died on February 5, 1967, in Santiago. Influenced by a peasant mother – guitarist and singer in her spare time – and a musician father, Violeta was a folk singer, composer, poet, visual artist (ceramics, painting, sculpture, tapestry) and social activist. She is major figure in Latin American folklore. Her most famous song is Gracias a la Vida.
At a very young age, Parra learned to sing, play various instruments (guitar, flute, drums) and compose songs. Forced to earn money to support herself and her family following her father's illness and death, she dropped out of school and sang, with her brothers and sisters or alone, in restaurants, bars, trains, circuses or brothels. Between 1949 and 1953, the folk duo she formed with her sister Hilda Parra, Las Hermanas Parra, recorded several singles of Chilean folk songs (El Caleuche, Judas, La cueca de la payaso). In the early 1950s, she travel all around Chile to collect and record traditional songs. As one of Chile's first folklorists, she contributed to the process of creating Chile's national identity. These compilations of more than 3000 songs gave rise to a book, Cantos folclóricos chilenos, and her first solo albums. Increasingly known in Chile, she won the Caupolicán Prize for the best folk performer in 1954 and performed in the USSR and Europe. During this period, in addition to four new records (Canto y guitarra, Acompañada de guitarra, La tonada, La cueca), she diversified her artistic activities, creating ceramics, oil paintings and tapestries among others.
In 1961, Parra settled in Paris and gave recitals at the Barrio Latino and the Théâtre des Nations. In 1964, she exhibited a series of tapestries and sculptures at the Musée des arts décoratifs in the Palais du Louvre. Between 1963 and 1965, she lived in Geneva, at 15 rue Voltaire, with musicologist Gilbert Favre. She exhibited tapestries at the University of Geneva. It was at this time that she composed her most militant songs (Miren cómo sonrien or Qué dirá el Santo Padre) that formed the basis of the political movement and musical genre Nueva Canción Chilena. This movement integrates calls for social justice into traditional music and, far from the idealized representations of the Chilean people that this music usually conveys, seeks to give a voice to the most disadvantaged. Parra's targets are mainly landowners, the military and the church. Returning to Chile in 1965, she tried to open a folk culture centre, but without success. She recorded some of her most famous songs (Run Run se fue pa'l norte, Gracias a la vida, Volver a los 17) before killing herself on February 5, 1967, in Santiago.
(LP)
Discography (selection)
Chants et danses du Chili, vol. 1 (1956)
Violeta Parra, Canto y guitarra. El Folklore de Chile, vol. 1 (1956)
Recordando a Chile (una chilena en París) (1965)
Carpa de la Reina (1966)
Las últimas composiciones de Violeta Parra (1967)
Un río de sangre (1975)
Bibliography
Cantos Folklóricos Chilenos, Santiago, Nascimento, 1979.
Poésie populaire des Andes, Paris, Maspero, 1965.
Blau, Jnan Ananda, « Violeta Parra », in Encyclopædia Britannica, Encyclopædia Britannica Inc., 2019, (https://www.britannica.com/biography/Violeta-Parra).
Holenweg, Pascal « Gracias a la Violeta », in Le courrier, 31 octobre 2017 (https://lecourrier.ch/2017/10/31/gracias-a-la-violeta/).
Verba, Ericka K., « To Paris and Back: Violeta Parra's Transnational Performance of Authenticity », in The Americas, Vol. 70, N° 2, 2013, pp. 269-302.
« Violeta Parra », in Wikipedia, (https://es.wikipedia.org/wiki/Violeta_Parra#cite_ref-orbe_11-0).