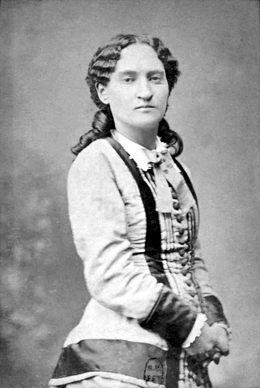 Paule MINCK (or Mink)
1839-1901, Writer, Revolutionary and Feminist
Writer, feminist, and revolutionary activist Paule Minck (Clermant-Ferrand 9 November 1839—Paris, 28 April 1901) was born Adèle Paulina Mekarska to a mother from the French aristocracy and a father descended from Polish nobility.
In the latter half of the 1860s, Minck began to establish herself as a militant socialist and feminist. She settled in Paris, where she founded a women's mutual aid society, the Société fraternelle de l'ouvrière (Female Workers' Fraternal Society), joined the International Workingmen's Society, and championed the rights of women, including a woman's right to work outside of the home and to receive equal pay. In 1869, she published Les mouches et les araignées (Flies and Spiders), a swiftly-censored periodical in which she cast Napoleon III as a spider devouring his people (the flies).
As fierce a patriot as she was critic, Minck actively contributed to defence efforts during the Franco-Prussian War of 1870, and was offered the Legion of Honour, which she refused on principle. On 18 March 1871, she joined the revolutionary insurrection that toppled the old order and established the Paris Commune as governing body.
Throughout this period of upheaval, Minck continued to spread the cause of socialism and women's rights in writings and speeches. It was while away on one of these speaking tours that Minck narrowly avoided what came to be known as Bloody Week, the period from 21 to 28 May 1871 in which the French army overthrew the Paris Commune and regained control.
Minck escaped to Switzerland, allegedly stowed away aboard a train, and was banned in absentia from ever returning to France. Between 1871 and 1880, she lived in poverty in Switzerland, notably in Geneva, and made ends meet as a seamstress and giving private lessons, while never ceasing continuing to publish articles.
In 1880, a general pardon precipitated Minck's return to France, where she sought new forums through which to disseminate her views on class and gender. She founded and served as editor-in-chief of the journal Le Socialiste des Pyrénées Orientales (The Eastern Pyrenees Socialist). She was active in the French Workers' Party, campaigning for women's right to equal education, and was a founding member of the feminist organisation La Solidarité des femmes (Women's Solidarity). In 1893 she declared her candidacy in the Paris municipal elections, a wholly symbolic statement as women did not possess political rights. Towards the end of her life, she joined the Central Revolutionary Committee, a political party that promoted activism through revolution.
Minck was buried in Paris on 1 May 1901—International Workers' Day—at Père-Lachaise cemetery. Her funeral drew a large crowd of demonstrators and supporters who clashed with the heavy police presence.
Known for her staunchly independent views, Minck espoused an anti-authoritarian and anti-state anarchism that promoted the welfare of the post-Industrial Revolution working class. She later conceded that certain political and civil rights for women could be achieved from within the capitalist system.
(LP)
Bibliography
« Les mouches et les araignées », nos 1 et 2, 1869.
Les mouches et les araignées, Le travail des femmes et autres textes, [préface, notes et commentaires Alain Dalotel], Paris, Syros, 1981.
« Les femmes et le Premier mai », in La petite République, 1er mai 1895.
« Pétard féminin », in Le coup de feu, octobre 1885.
« La femme en Algérie », in Le coup de feu, janvier 1885 et octobre 1889.
Gauthier, Xavière, « Minck [ou Mink] Paule », in Bard, Christine (dir.), Dictionnaire des féministes. France XVIIIe-XXIe siècle, Paris, Presses universitaire de France, 2017, pp. 998-1000.
Maitron, Jean [en collaboration avec René Bianco], Mink Paule [Minck Paule], in Le maitron en ligne (http://maitron-en-ligne.univ-paris1.fr/spip.php?article24873 ; consulté le 20 février 2019).
« Minck Paule », in Wikipédia (https://fr.wikipedia.org/wiki/Paule_Minck ; consulté le 20 février 2019).
Newhall, David S., « Mink, Paule (1839-1901) », in Commire, Anne, Klezmer, Deborah (eds), Women in World History. A Biographical Encyclopedia, (Vol. 11), Detroit, Waterford, Yorking Publication, Gale Groupe, 2001, pp. 149-154.