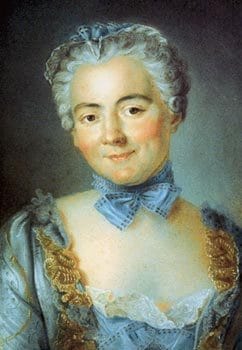 Marie-Louise MIGNOT
Madame Denis, 1712-1790, Salon Hostess
Marie-Louise Mignot was born February 12, 1712, in Paris and died August 10, 1790, in Paris. She was the daughter of Pierre-François Mignot († 1737), an account examiner, and Marguerite-Catherine Arouet (1686–1726). The latter had a brother, Voltaire, who would later become Mignot's guardian after the death of her father. Being a true free spirit, Mignot decided to marry Nicolas-Charles Denis in 1738, a military officer, dashing her uncle's hopes of securing a more advantageous alliance. She was known as Madame Denis from this point on – a name she would keep in her correspondence. Widowed in 1744, she opened after her period of mourning a fashionable salon in Paris that was frequented by the most famous of guests. In 1945, the relationship between Mignot and Voltaire took a romantic turn, causing the uncle and the niece to move in together. Although she stayed by his side until his death, she never renounced to her personal and emotional independence and paid little regard to the tensions this could possibly cause. For instance, when Voltaire accepted the invitation of Frederick II of Prussia in Potsdam and Berlin, in July of 1750, she stayed in Paris. Without her uncle, Marie-Louise Mignot looked after his business and started to collaborate with the Théâtre-Français and the Court. However when Voltaire encountered trouble in Colmar and was banned from returning to Paris by Louis XV, she came to his rescue. Niece and uncle arrived in Switzerland on December 12, 1754, living first in Prangins before settling in Geneva a few months later at their residence 'Les Délices,' which they acquired using a figurehead. Their salon would host balls, intellectual games and theatre nights, where host and hostess would climb onto the stage and invite their guests to do the same. Passionate about theatre, Marie-Louise Mignot was also recognized for her talents in reciting texts and playing music, most notably with the harpsichord. Splitting their time between Geneva and Lausanne, where they also had a property, she and Voltaire led a worldly life, hosting many guests. Mignot not only managed the entire household, but was also responsible for all of the house's correspondence. Tensions with Genevan authorities caused the couple to move to Ferney, in the Pays de Gex, in October 1758. A dispute broke out between the two in 1768, leading her to leave Voltaire and come back a year later on her own terms. In 1778, they returned to Paris where Voltaire died in May. As his sole beneficiary, Mignot sold his papers to Catherine the Great's library and their property in Ferney to the Marquis of Villette. Ignoring the scandal it would cause, she remarried in 1780 to François Duvivier, a commissary ten years younger than herself. She continued to live her worldly life, running her salon, living her passion for theatre, and even helping a few budding authors start their careers. She stayed in Paris until her death in August 1790. Mignot remains a letter writer remembered for her vivacious spirit – over 300 of her letters to Voltaire have been preserved.
(JS)
Bibliography
Sources
Voltaire, Lettres d'amour à sa nièce, éd. Théodore Besterman, Paris, Plon, 1957.
L'Affaire Paméla : lettres de M. de Voltaire à Mme Denis, éd. Andrà Magnan, Paris, Paris-Méditerranée, 2004.
Travaux
Ferrero, Monique, « Marie-Louise Denis », in Deuber-Ziegler, Erika, Tikonov, Natalia (dir.), Les femmes dans la mémoire de Genève, Genève, Editions Suzanne Hurter, 2005, pp. 76-77.
« Marie-Louise Mignot », in Wikipédia (https://fr.wikipedia.org/wiki/Marie-Louise_Mignot).
Pascal, Jean-Noël, « Denis, Marie-Louise Mignot », in Krief, Huguette, André, Valérie (dir.), Dictionnaire des femmes des Lumières, A-K, Paris, Honoré Champion, 2005, pp. 349-353.