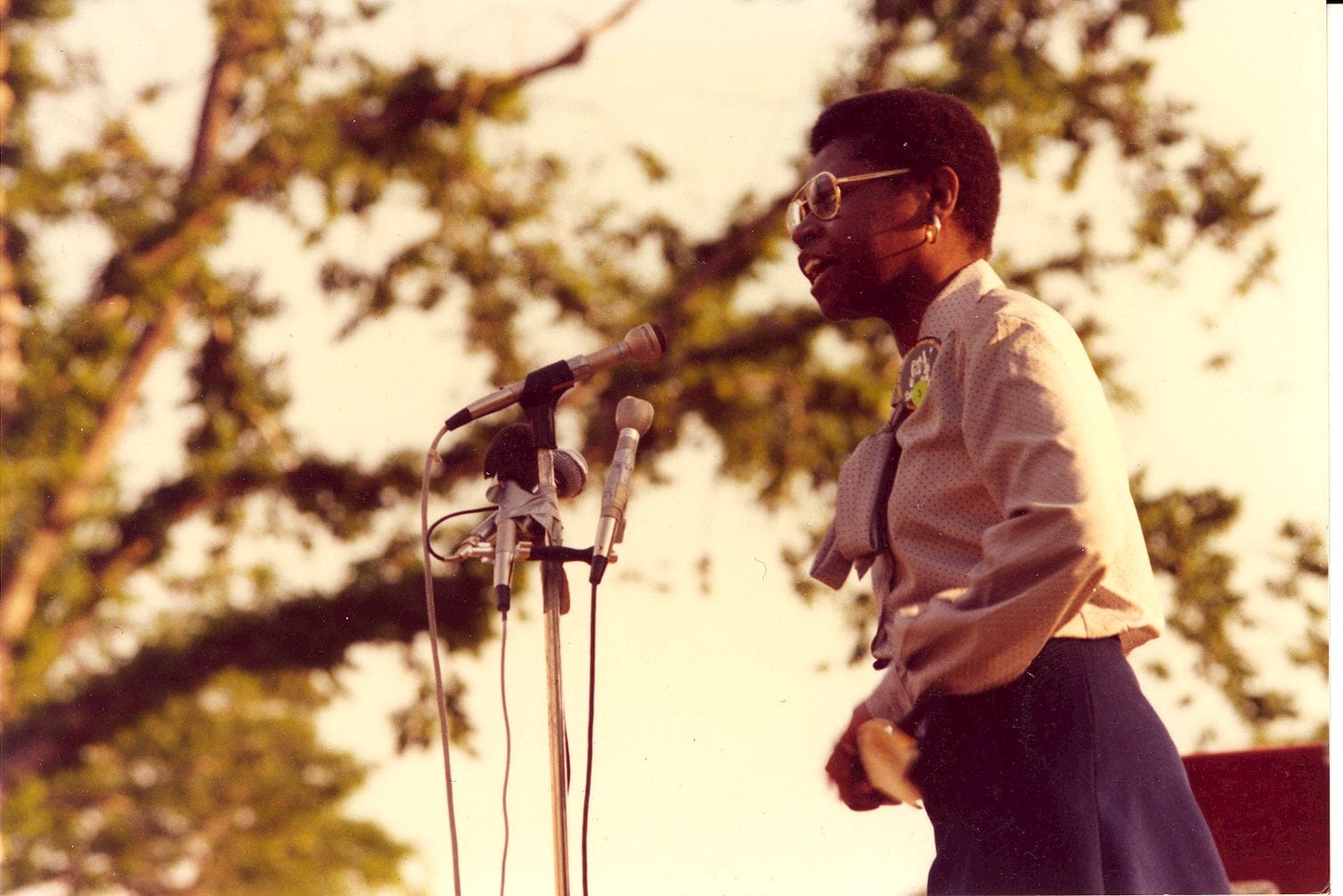 Jean SINDAB Dr.
1944-1996, Anti-Sexism and Anti-Racism Activist
Dr. Jean Sindab (Cleveland, 23 October 1944—New York City, 8 January 1996) was an African American activist and lobbyist dedicated to combatting racism, sexism, and economic injustice worldwide. Born Nellie Jean Pitts, Sindab grew up in New York City, where she and her five sisters were raised by their mother, a housekeeper.
In 1970, after six years as a legal secretary and assistant editor in primarily white male-dominated spaces, Sindab began her degree in history and African American studies at Hunter College. Though intellectually liberating, these years of study were marked by economic precariousness. Sindab continued to work part-time as an assistant editor, and sought strength in her deep Christian faith. In 1972 Sindab won a scholarship that allowed her to travel outside of the United States for the first time, to Ghana, Nigeria and Togo.
Sindab would then go on to attend Yale University, where she earned two master's degrees, in Political Science and International Relations, before completing her PhD in Political Science and Human Resources in 1984.
In 1980 she was appointed executive director of the Washington Office on Africa (WOA), an organisation dedicated to influencing U.S. foreign policy on apartheid in South Africa and Namibia. During her tenure, Sindab led coordinated lobbying efforts aimed at Congress and the American media, as well as national and international organisations, including The American Federation of Labor and Congress of Industrial Organization, the Congressional Black Caucus, the YWCA, Amnesty International and Human Rights Watch. Alongside her work at the WOA, Sindab was a consultant for the King Center for Non-Violence (1986), the Rainbow Coalition (1984-1986), the U.N. Council for Namibia and U.N. Centre Against Apartheid (1982-1986).
Her global initiatives then brought her to Geneva, where she served as executive secretary and co-director of the Programme to Combat Racism (PCR) of the World Council of Churches (WCC) from 1986-1991 (save a for short stint on Reverend Jesse Jackson's presidential campaign in 1988). At PCR, Sindab created Women Under Racism, an international network for women affected by racism, and sought to foreground their experiences within the WCC. Through this work, Sindab emphasized the interdependence between different forms of oppression, in particular race, gender, and class, several years before the sociologist Kimberlé Crenshaw coined the term "intersectionality."
Though living in Grand-Saconnex at the time, Sindab's efforts were less concentrated in Geneva or Switzerland than towards her activism abroad and the frequent travel it demanded. In the Spring of 1991, Sindab returned home to New York, where she joined the National Council of Churches of Christ and took up in the national fight against environmental racism. She spearheaded programmes that exposed the ways in which environmental issues are interwoven with racial and economic oppression. Sindab died of breast cancer on 8 January 1996, at the age of 51.
(PO-N)
Bibliography
Ohene-Nyako, Pamela, « Femmes de couleur dans la lutte transnationale contre le racisme. Le sous-programme Women Under Racism du Conseil œcuménique des Églises », mémoire de Master, Université de Genève, 2017.
Notice biographique présentant le fonds d'archives personnelles de Jean Sindab, Schomburg Center for Research in Black Culture, New York, (http://archives.nypl.org/scm/21149).
Comité d'obsèques de Nellie Jean Sindab, « A Celebration of the Life of Dr. Nellie Jean Pitts Sindab », 1996, (http://www.aluka.org/action/showMetadata?doi=10.5555/AL.SFF.DOCUMENT.nevbm3).