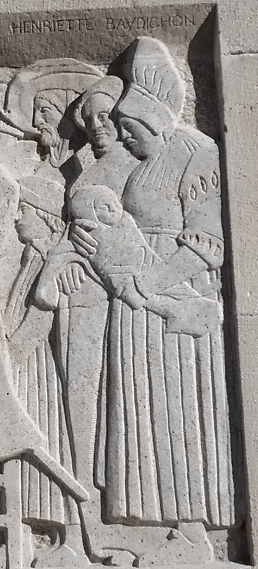 Henriette BONNA
alias Baudichon, c. 1510 – 1537, Protestant activist
Henriette Bonna (c. 1510 – 1537) was a Genevan citizen who actively promoted Protestant ideas. She was involved in the public unrest (1535 – 1536) preceding the city's swerve in favor of the Reformation. Mentions of her are few and far between, and biographical details are scarce. At the time, regardless of their social status, most women depended on the men that were in their lives. As a result, most of these details can only be gleaned from documents recounting these men's lives and economic status. Due to her relations by blood and marriage, Henriette Bonna was an elite member of Genevan society. To this day, her exact dates of birth and death are unknown. In her 1527 marital contract with the cloth merchant Jean (alias Baudichon de La Maisonneuve), she is described as the daughter of deputy Aymon Bonna. At the time, she must have been in her twenties or slightly younger. In 1538, Baudichon de la Maisonneuve signed his second marriage contract, meaning that Henriette Bonna had likely died shortly before this.
In 1530s Geneva, violent unrest flared between religiously-opposed political groups. Articles from the period describe Genevan women massively participating in street altercations. Provocations from Protestant activists, also known as Evangelicals or Evangelists, went hand-in-hand with feminine acts of dissidence. Henriette Bonna is often mentioned alongside these activists (described as "Baudichon's wife").
Her politico-religious activism also shone through in the judiciary sphere. In the trial brought against her husband, who had been accused of heresy and jailed in Lyon, Henriette was mentioned by the prosecution witnesses. According to hearsay, she had been spotted by a window with her servant, defiantly spinning wool during the solemn Corpus Christi procession. In doing so, the two women showed their opposition to the cult. Accounts also mention Henriette calling out the priests chanting litanies and the women following them. On another occasion, she confronted one of the prosecution witnesses. During the altercation, she called them a "Papist", avowing her Lutheran sympathies and personal implication in the influx of Protestant preachers to Geneva.
Indeed, in a letter to Baudichon de La Maisonneuve, a copy of which was used in the trial, Henriette updated her husband on the spread of Evangelical sermons. In closing the letter, she feminized his name, writing "Your devoted wife, Anrite1 Baudichone." 19th-century Genevan historians, writing the first histories of the Reformation, thus referred to Henriette Bonna as Henriette Baudichon. The name is also used in a bas-relief of her on the Reformation Wall (1909-1917), located in Parc des Bastions. On the monument, she is shown next to a midwife, who hands a new born to a preacher for baptism. The scene depicts Geneva's first Evangelical baptism, organized by Baudichon de La Maisonneuve and Henriette Bonna. Through this ritual, they showed their public opposition to Christians receiving sacraments from priests, whom Protestants saw as false pastors.
1 To be pronounced like "Henriette"
(DSC)
Bibliography
Baum, Johann-Wilhelm (éd.), Procès de Baudichon de La Maison Neuve, accusée d'hérésie à Lyon : 1534, Genève, J.-G. Fick, 1873.
Hochuli Dubuis, Paule, « La Maisonneuve, Baudichon », in Dictionnaire historique de la Suisse, (http://www.hls-dhs-dss.ch/textes/f/F25662.php).
Naef, Henri, Les origines de la Réforme à Genève, Tome II, Librairie Alexandre Jullien, Genève 1968.
Solfaroli Camilocci, Daniela, « Les Genevoises prêchent. Activisme et résistances des femmes », in Grosse, Christian, Dunant, Anouck, Fornerod, Nicolas, Gross, Geneviève, Solfaroli Camilocci, Daniela, Vernhes Rappaz, Sonia, Côté chaire, côté rue : l'impact de la Réforme sur la vie quotidienne à Genève (1517-1617), Genève, La Baconnière, 2018.