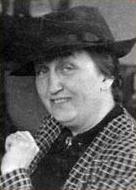 Hélène GAUTIER-PICTET
1888-1973, Founder of the Feminist Associations Liaison Center of Geneva
Hélène Gautier-Pictet is an important figure in the fight for women's access to civil rights in the canton of Geneva. She was born on the 8th of May 1888 in Bern and died on the 14th of December 1973 in Grenolier, and was the daughter of Marie Hirschgartner and Paul Pictet, a jurist and founder of the newspaper La Suisse. In her youth, she was an auditor at the University of Geneva, where she met Émilie Gourd. This encounter encouraged her to fight for women's rights. She then founded the « Association Féminine d'Éducation Nationale » (or the Feminine Association for National Education) which would offer courses for civil instruction, and from 1937 onwards, she went on to be the founder of the Centre de Liaison des Associations Feminines Genevoises (CLAFG) (or the Feminist Associations Liason Center of Geneva).
The Liaison Center's goal is to regroup existing feminist associations in Geneva in order to allow them to consult each other and coordinate their efforts, thus facilitating action. Hélène Gautier-Pictet held the position of Presidency for almost 20 years. With the support of the associations, she would prepare requests destined to the canton's authorities. After much effort, the Center gained increased influence and the representatives would regularly be invited to speak in front of the Grand Council of Geneva in order to make their opinions known on various women's issues. At first, the Liasion Center included around 20 associations, while today it counts 45 member associations.
In 1951, Hélène Gautier-Pictet left her place as president to the Doctor Renee Girod. The next year, the Grand Council of Geneva planned a consultation with women regarding their right to vote. A convinced Suffragette, Hélène Gautier-Pictet had already declared in 1946 « for women, the right to vote is not a goal, but a beginning ». She actively prepared the campaign as the President of the committee, but the official referendum given in 1953, reserved for men, ended up being a failure (57% of votes against the cause). This engagement made of her one of the important figures for the struggle for women's right to vote, which became effective only in 1960.
She then dedicated her life to peaceful action until her death in 1973. Since 1941, she had joined the Swiss Quaker group, a religious organization whose particularity is to function in a horizontal manner. She was also one of the pillars of the Geneva Assembly during the Second World War.
(MP)
Bibliography
Travaux
Leach, Robert J., « Hélène Gautier Pictet », in Dictionnaire historique de la Suisse (http://www.hls-dhs-dss.ch/textes/f/F29012.php).
« Pionnières : Hélène Gautier-Pictet », in Le Centre de liaison des associations féminines genevoises (CLAFG), (http://www.clafg.ch/qui-sommes-nous/historique?print=print-page).
Weibel, Valentine, « Hélène Gautier-Pictet », in Femmes suisses, 12 février 1924, (https://www.e-periodica.ch/digbib/view?pid=emi-002:1974:62::414#414).