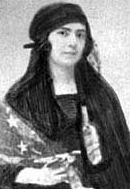 Ceza NABARAWI
1897-1985, Editor-in-chief of L'Égyptienne
Born in Cairo on the 24th of May 1897, died in February 1985. Ceza Nabarawi was an Egyptian campaigner for women's rights and the editor-in-chief of L'Égyptienne. She was adopted at birth by close friends of her biological parents, and was raised in Europe. She grew up in France and was educated in Versailles and Paris. When she was 15, her adoptive mother committed suicide, causing Nabarawi to return to Egypt to live with her maternal grandfather. Nabarawi continued her studies at the French École des Dames de Sion in Alexandria.
Having been raised in Europe, Nabarawi was now confronted with the religious and traditional aspects of Egyptian society. For instance, she was of age to wear the veil, which was obligatory in Egypt at the time. However, she defied the wishes of her family to cover her head and wore a baseball cap instead. This bold act of rebellion was what drew the attention of her late mother's friend, Huda Sharawi, who herself was campaigning for women's rights in Egypt and convinced Nabarawi to don the veil for the time being. Together Huda Sharawi and Cesa Nabarawi joined the radical feminist community and marched in protests for Egyptian independence, curriculum reform and equal access to education. In January 1920, they helped found the Wafdist Women's Central Committee (WWCC), an all-female political organisation. The same year, members of the WWCC, Nabarawi included, were invited to participate in the International Alliance of Women for Suffrage and Equal Citizenship (IAW)'s annual conference in Geneva, and again in 1923 when the conference took place in Rome. However this time around, Huda Sharawi created the Egyptian Feminist Union (EFU) which distanced itself from the political nature of the WWCC. The EFU formed its own delegation to the conference, with Nabarawi among the group of women sent. Upon their return from Rome, when they arrived in Cairo, Cesa Nabarawi and Huda Sharawi chose to remove their veils in public in plain view of the Egyptian press and other feminist groups as a challenge to the current state of women's affair in Egypt. Gradually, the country's feminist movement organised itself and protest in public spaces grew frequent. Cesa Nabarawi played her own part in the struggle by becoming the editor-in-chief of the newly-founded newspaper L'Égyptienne in 1925, which was affiliated with the EFU and was published in French. In March of 1925, she penned an article entitled "Double Standard", where she denounced the unequal treatment of Egyptian working women compared to foreign women, especially in journalism and politics.
When Huda Sharawi retired from the presidency of the EFU in the 1940s, Nabarawi became a representative for the EFU, and once again participated in the meetings of the International Alliance of Women for Suffrage and Equal Citizenship in 1949 and 1952. At the same time, she took up a strong stance against colonialism. In 1953 citing political differences she left the EFU, who deemed her views as too far left. In the same year, she joined the Women's International Democratic Federation and continued her fight for women's rights and peace until her death in February of 1985.
(MS)
Bibliography
Badran, Magot, Feminists, Islam, and Nation. Gender and the Making of Modern Egypt, Princeton (NJ), Princeton University Press, 1995.
Makar, Ragai N., « New Voices for Women in the Middle East », in Middle East Librarian, N° 65/66, Fall 1997-Spring 1998, pp.14-60.
Margherio, Stephanie, « Feminists, Nationalists, and the State in 19th and 20th Century Egypt », in http://people.loyno.edu/~history/journal/Margherio.htm.