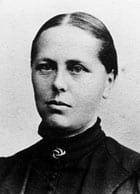 Camille VIDART
1854-1930, President of Women's Union Geneva
Born on February 14, 1854, deceased on June 28, 1930, Camille Vidart is the daughter of a Genevan housewife and French doctor. She holds a French graduate degree from Université de Lyon, and devotes her life to teaching, feminist activism and philanthropic activities. She lives primarily in Geneva, first with her aunt, and then with one of her sister and Dr. Harriet Clisby, an English physicist and women's right activist.
Vidart begins her career as a professor in young girls' school in Peschier, Geneva (1874-1879). She is then hired at the Superior School for young girls in Zurich and becomes the first women to hold the position of Principal teacher, thanks to her both female and male first name. The jury invited her to audition thinking she was a man and were convinced by her speech so they hired her. Whilst teaching in Zurich, she meets Johanna Spyri for whom she translates her book Heidi in French, future bestseller. She goes back to the French speaking part of Switzerland to get close to her family in 1884, and teaches in Vinet School in Lausanne. In 1886, she returns to Geneva once and for all, to take care of her sick aunt and gives private lessons to earn money. She becomes more interested in social issues, particularly through economist books like Charles Gide or feminist writings such as Joséphine Butler's. She is concerned by women workers' poverty and begins her focus on philanthropy and feminist activism. Like many other Genevan pioneers, her actions are motivated by Christian faith and involve charity and fight for equal rights.
Vidart's activism is shown on the local, national and international scene: her main objective is to unite women forces. She is actively involved in Women's Union Geneva (Union des femmes de Genève), an organisation created in 1891 which focuses on improving women's professional education and legal status. She is named vice-president in 1892, and becomes president from 1898 to 1902. She is also known for her public speaking and gives many lectures. She creates philanthropic projects such as a mending workshop or a cooperative home for single women. In 1896, she puts together the first Swiss Congress on female issues and gives an opening speech on women's solidarity. This Congress leads to the creation of the permanent National Commission on female issues and then, the National Alliance of Swiss societies for women (1900). This umbrella organization in which Vidart is part tries to influence political decisions, like enforcing the regime of separation of marital property, but unsuccessfully. On the international scene, Vidart is the secretary of the international Council of Women from 1899 to 1904. She is also part of the international abolitionist Federation which seeks to abolish the criminalization of prostitution. Along with Edouard Claparède and Adolphe Ferrière, she founds the International Bureau of Education (1925) and is on the steering committee until 1929. Facing difficulties in improving women's conditions without political power, Vidart therefore engages in the creation of the Genevan Association for women's suffrage (1907), the Swiss Association of women's suffrage later on (1909) and starts a suffragist journal Le mouvement féministe (1912). She dies on the 28th of June 1930, very affected by the multiple failures of votes in favour in women's rights to vote.
(LP)
Bibliography
Deuber Ziegler, Erica, Tikhonov, Natalia (dir.), Les femmes dans la mémoire de Genève. Du XVe au XXe siècle, Genève, Éditions Suzanne Hurter, 2005.
Fatio-Naville, Émilie, « Camille Vidart, 1854-1930 », in Annuaire des femmes suisses 1930-1931, vol. XII, Berne, Basler Druck und Verlagsanstalt, 1931, pp. 7-24.
Joris, Élisabeth, « Alliance de sociétés féminines suisses (ASF) », in Dictionnaire historique de la Suisse, (http://www.hls-dhs-dss.ch/textes/f/F16500.php, consulté le 24 février 2019).
Ludi, Regula, « Vidart, Camille », in Dictionnaire histoire de la Suisse (http://www.hls-dhs-dss.ch/textes/f/F9402.php, consulté le 24 février 2019).
Pionnières et créatrices en Suisse romande, [Genève], Service pour la promotion de l'égalité entre homme et femme, Slatkine, 2004.