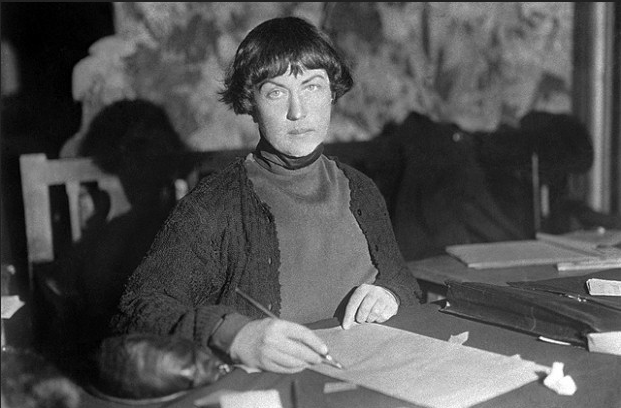 Alexandra KOLLONTAÏ
1872-1952, Ambassador for the USSR
Alexandra Kollontaï was born in Saint Petersburg on 19 March 1872 and died in Moscow on 9 March 1952. She was a revolutionary Russian diplomat, activist, and politician. Her whole life was devoted to improving the condition of women. She worked passionately and tirelessly to give women the right to equal pay, vote and run for election, divorce, and to enforce the right to abortion. Other causes she championed were a five-month maternity leave and creating nurseries and day-care centres.
Kollontaï was born into an aristocratic Russian family of Finnish descent. After completing her baccalauréat in Paris, she studied social sciences and economics at the University of Zurich, starting in August 1898. Over the course of her studies, she found a kindred spirit in Rosa Luxembourg. In Geneva, Kollontaï discovered Marxism thanks to Gueorgui Plekhanov. She was also involved in the Russian expatriate community. By 1906, she was already hailed as a specialist on socialism and the labour movement, having written three books on the topics. The next cause that caught her interest was women's issues. On 9 January 1905, she marched on Saint Petersburg's Palace Square, meeting Lenin the same year.
Kollontaï was a member of the Menshevik faction of the Russian Social Democratic Labour party from 1906 to 1915. In 1908, she was exiled from Russia, where she had been charged in two political trials. She would only return in 1917, shortly after the February Revolution, and as a Bolshevik this time. This was an important turning point in her political career. Indeed, in April, she was appointed to Petrograd's Congress of Soviets. She also took part in the October Revolution. Subsequently, Kollontaï was named to the Council of People's Commissars for social affairs, and became a member of Lenin's first government. In autumn of 1920, she led the women's department of the Secretariat (Zhenotdel), as well as the Communist Women's International. Several months later, she helped found the Workers' Opposition, a move that probably contributed to ending her political career in the Soviet Republic. This political faction of the Communist Party strove to expose the defectiveness of the system. Key issues were the role of trade unions and the over-bureaucratisation of Soviet Russia. In 1922, the faction was abolished, and Kollontai was ousted from the Party.
Stalin wanted Kollontaï out of Russia; to this end, he appointed her to represent the USSR abroad. Thus, in 1923, she became an attaché to the Soviet legation in Norway – one of the first women to take on this role in modern history. In 1926, she was sent to Mexico for similar reasons, but was forced to leave due to health issues, returning to work in Norway until 1930. On 30 October 1930, her diplomatic career brought her to Sweden. In addition, she was a member of the League of Nations' Soviet delegation from 1935 to 1939, in Geneva. In 1940, the landmark signature of the Moscow Peace Treaty ended the conflict between Finland and the USSR. Kollontaï played a major role in the treaty's success. The last political function Alexandra Kollontaï took on, in 1945 and aged 73, was Dean of the Diplomatic Corps in Sweden.
(NA)
Work (selection)
La révolution, le féminisme, l'amour et la liberté, (textes choisis et présentés par Patricia Latour), Montreuil, Le Temps des Cerises, 2017.
Marxisme et révolution sexuelle, Paris, F. Maspero, 1973.
Bibliography
Clavin, Patricia, Sluga, Glenda (ed.), Internationalisms. A Twentieth-Century History, Cambridge, Cambridge University Press, 2017.
Farnsworth, Beatrice, « Aleksandra Kollantai. Socialism, Feminism, and the Bolshevik Revolution », in American Anthropologist, vol. 84, no 3, 1982, pp. 661-662.